Moving to Oakland means one thing: I have lots of new hiking territory to explore! Over the long Labor Day weekend, I took the chance to go and explore Tilden Park in the Berkeley Hills. I went to Vollmer Peak, the highest point in the Berkeley Hills, and Chaparral Peak, the highest point in Oakland.
Destination: Chaparral Peak, and Vollmer Peak
Distance: 3.9 miles round trip, 0.3 miles to Chaparral Peak, 1.7 miles from Chaparral Peak to Vollmer Peak, and 1.9 miles back from Vollmer Peak
Elevation: 1,760 ft for Chaparral Peak, 1,905 ft for Vollmer Peak
Starting Point: Scotts Peak Trailhead
Route Finding: Easy
Route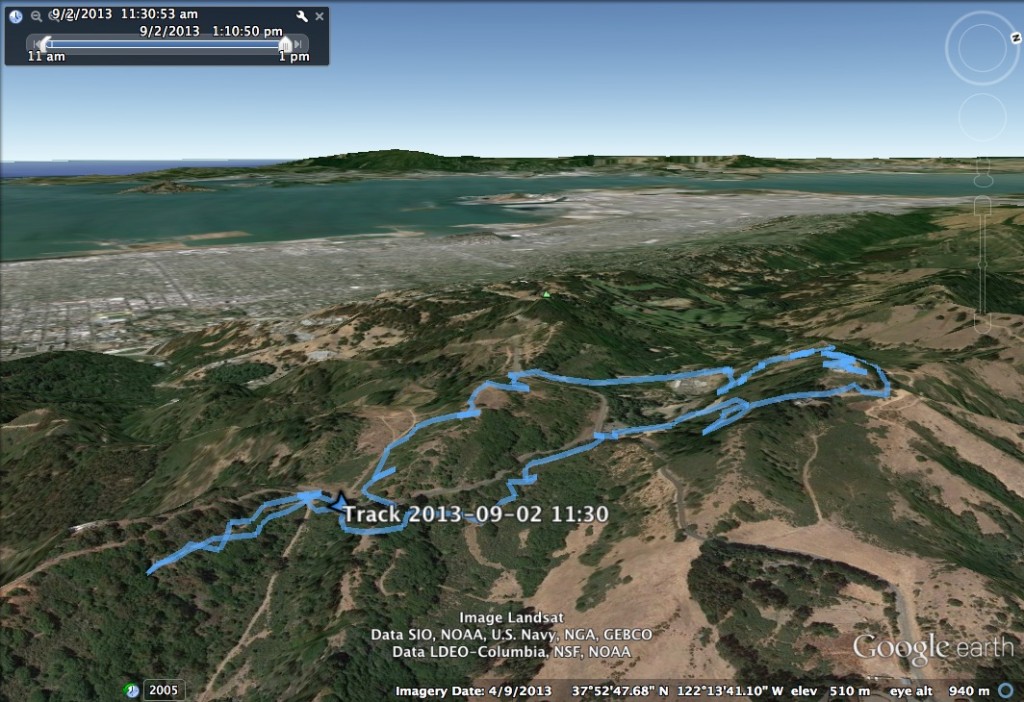 Comments
The route to Chaparral Peak starts off to the West side of Grizzly Peak Blvd as it snakes through the Berkeley Hills. This is about 1.5 miles to the south of Tilden Park. This route is a fire trail that is easy to follow and that leads quickly to the top of Chaparral Peak. If there is ever any question about which track to follow–simply always turn to the right! Chaparral Peak is a very simple hill to climb to the top of. Although there are nice panoramic views of the Bay from the trail up, the peak itself does not present many views.
From Chaparral Peak, we continued along the same fire trail until it met back up with Grizzly Peak Blvd. Here, we crossed and walked a short distance on South Park Drive into Tilden Park, until it met up with the Vollmer Peak Trail. This trail winds lazily through the park, until it reaches Vollmer Peak Road, which leads directly to the top of Vollmer Peak, the highest hill in the Berkeley Hills. Vollmer Peak provides spectacular views of the North Bay, and the interior East Bay.
East, Towards Diablo
From here, we walked back down Vollmer Peak Road, until it intersected Lomas Cantadas. Here, the Bay Area Ridge Trail goes to a single trail dirt track across gently rolling terrain with very nice ridge views of the interior East Bay.
Bench Vista
This trail runs right to the East of Grizzly Peak Blvd for about 1.5 miles until it reaches a gate, across the road from where the fire trail we started on. On our hike, it appeared that the gate was locked, which does not seem usual. It is an easy gate to climb, but I would recommend checking whether the gate is open before hiking. I'm not sure if we missed an obvious way to get around the gate…