The Crystal Lake area is a good launching point for many hikes. A few months ago, I had hoped to hike up to Mount Hawkins, but instead wound up heading to Mount Islip instead due to snow. On May 25th, I took advantage of a beautiful day to launch a hike up towards the Hawkins Ridge.
Destination: South Mount Hawkins and Middle Hawkins along the Hawkins Ridge
Distance: 11.4 miles round trip, 4 miles up to South Mount Hawkins via HPS #1, 2 miles to Middle Hawkins via HPS #4, and 5.4 down via HPS #3
Elevation: 7,783 ft for South Mount Hawkins; 8,505 ft for Middle Hawkins
Gain: ~3,000 ft
Starting Point: Crystal Lake Recreation Area at the end of Highway 39 above Azuza
Route Finding: Easy, except spur to Middle Hawkins is a bit hidden
Route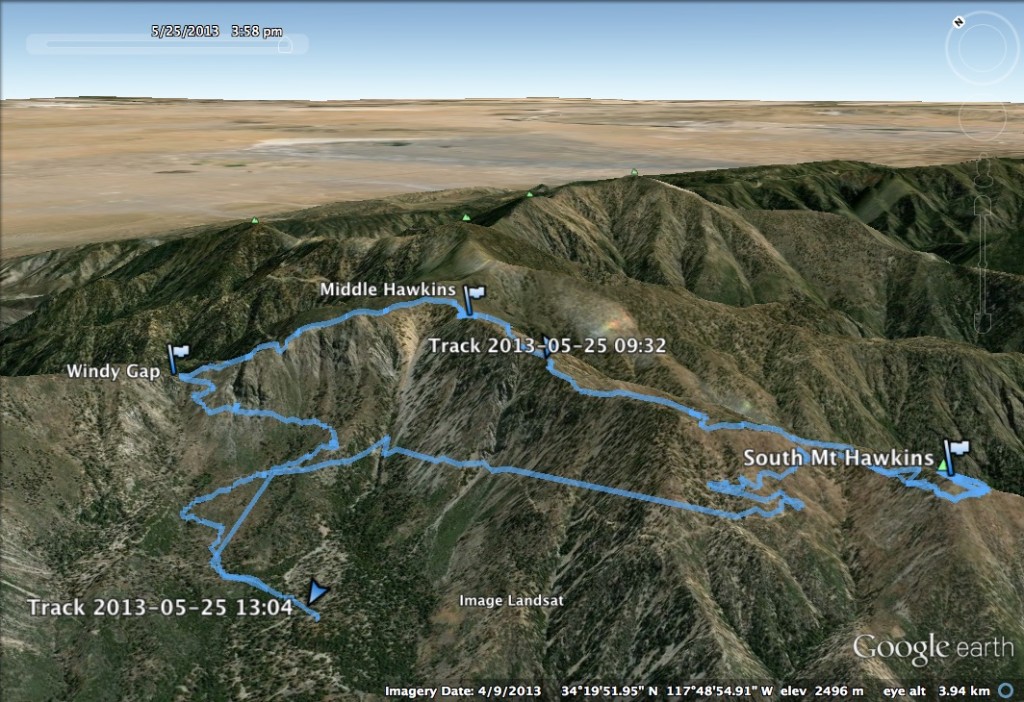 Comments
This hike is full of spectacular scenery, and features several well maintained paths. The hike starts down at the Crystal Lake parking area/campgrounds along the Windy Gap Trail. This trail climbs up to the dirt forest road 3N07, which runs along the west side of the Hawkins Ridge to a shoulder below South Mount Hawkins. This section of the trail has spectacular views of the bowl around Crystal Lake, that is ringed by Mount Islip on the northwest, the Hawkins Ridge on the east, and Smith Mountain to the South.
As a note, the mileage listed on the sign at the Windy Gap Trail and 3N07 intersection seems to be incorrect (trail is longer than signed). I had definitely expected it to end earlier than it did.
Crystal Lake Front Ridge
South Mount Hawkins is a short climb from this shoulder. From here, I proceeded north along the Hawkins Ridge Trail, which was recently rebuilt after a bad fire in the area. This trail climbs up to a short spur to Middle Hawkins. Most of the trail is clear and easy to follow, and the trail provides spectacular views of the Sheep Mountain Wilderness off to the east. This trail is fairly well shaded.
West of Middle Hawkins
From the Hawkins Ridge Trail, there is a spur off to the left that climbs up to Middle Hawkins. This trail is not marked, and is a bit difficult to find. It is a steep climb from this point up to the top of Middle Hawkins.
After reaching the top of Middle Hawkins, I set back on down, and continued on the Hawkins Ridge Trail north to the Pacific Crest Trail. I had hoped to reach this point earlier in my climb–had I made better time, I would've made a right turn and continued on to Mount Hawkins. Unfortunately, I was running slow, so I hung the left turn on the PCT to take me to Windy Gap, at which point I met up with the Windy Gap Trail and descended back to the Crystal Lake Campgrounds.