This weekend, I had been planning to head off to Rattlesnake Peak, a 5,800 ft peak in the San Gabriel Canyon area. However, a winter storm came through, and snow levels dropped below 3,000 feet. Because of this, I decided to go for Potato Mountain, a 3,400 foot peak in the San Gabriel Mountains. Potato Mountain is part of the Sierra Club Lower Peaks Section and is located in the Claremont Hillsides Wilderness Park.
Destination: Potato Mountain
Distance: 4.65 miles round trip
Elevation: 3,422 ft
Gain: ~1,200 ft
Starting Point: Palmer Evey Mtwy at Mount Baldy Road
Time: 1h19 total → 1h45 up, 0h34 down
Route Finding: Easy
Route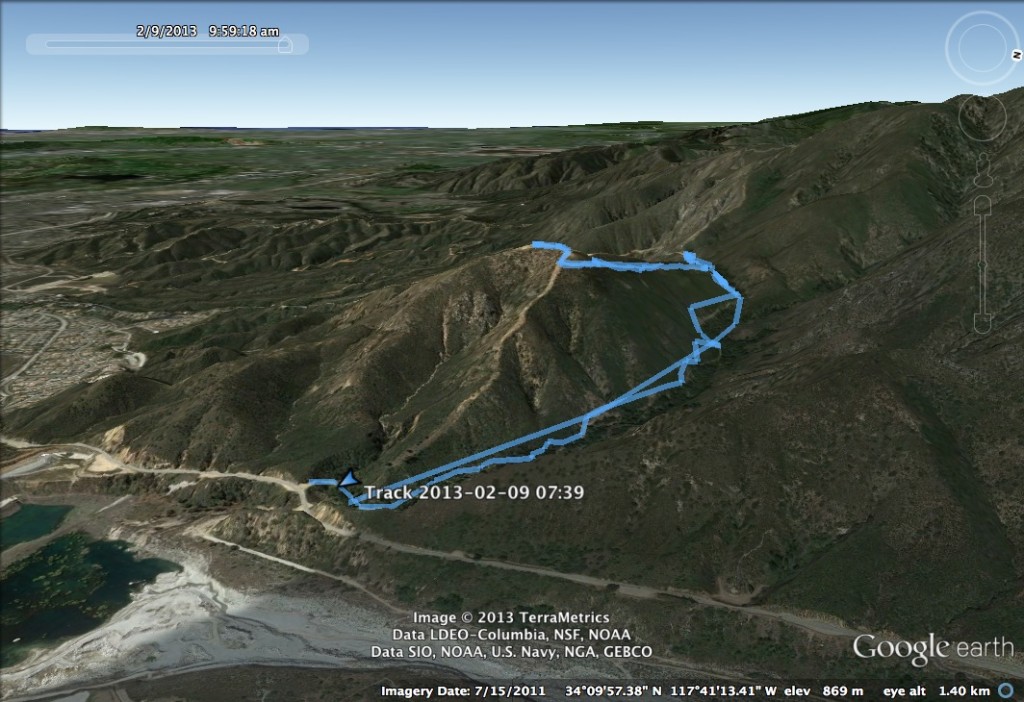 Comments
Although Potato Mountain is a short hill, it presents very nice views of the front mountains in the east half of the Baldy Bowl area. On the way up, one has great views of Ontario Mountain, Sugarloaf Peak, Frankish Peak, and Stoddard Peak. At the top, Mount Baldy peeks over some of the foreground hills. The summit also provides a spectacular view over the Pomona Valley.
The trail up is very straightforward, and seems to be very well maintained. However, due to the (very rare) overnight snow melting off, it was muddy for my hike–thankfully, the snow did not start melting significantly until I started my descent. From the trailhead, the trail goes through a few low meadow-like areas, before starting to climb to a saddle. At this saddle, you'll turn east, and follow a direct path up to the top of the mountain. The top of the mountain has a large cement cylinder, which I presume stores water or electronics.
Snow on Potato Mountain
All in all, the hike is fairly easy, and can be done pretty quickly. I dawdled on my way up, as I got distracted by photographic curiosities, and interesting conversation. I would say that Potato Mountain is definitely a good beginner hike in the San Gabriels. Since it is easy to get to, it is also a good short hike for days when one is pressed for time. As it is a lower peak, I would recommend it from Fall to Spring, but it has sufficient shade (below the saddle) to be doable in the summer.