On the Sunday after Thanksgiving, Iris and I set off for a quick hike up to Sunset Peak. Sunset Peak is one of the shorter peaks in the Mount Baldy area and provides a spectacular view of the Three T's, Mount Baldy, and Ontario Peak.
Destination: Sunset Peak
Elevation: 5,796 ft
Gain: 1,383 ft
Starting Point: Cow Canyon Saddle on Glendora Ridge Road, about 1 mile from the GRR/Mt. Baldy Road intersection
Time: 1h13 up, 1h13 down
Route Finding: Easy
Route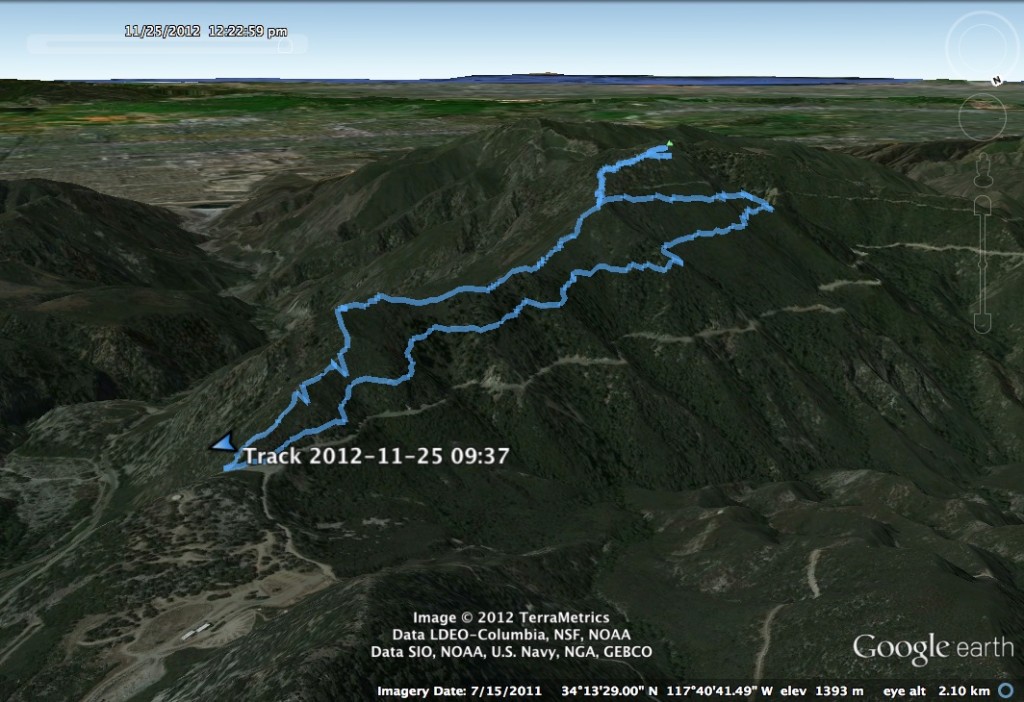 Comments
This hike starts in a very beautiful area, with both canyon and mountain views.
San Gabriels in Fall
We took the HPS #1 route up. This route follows a firebreak up the mountain and is very easy to find. At Cow Canyon Saddle, there is a gated fire road that runs alongside the mountain. This is the start to the HPS #2 route. The firebreak is about 100 feet to the east along Glendora Ridge Road, and starts by following an electrical line.
The firebreak climbs steeply, but is reasonably easy. There is some class 2 hiking going up this route, and it'd be a reasonably good idea to bring hiking poles (this, we did not do). At one point, the firebreak intersects with a forest service road. This forest service road is part of the HPS #2 route, and adds about one half mile to your climb. These two routes meet again at the top of the mountain.
The view from the top is a spectacular 360° view of both the Baldy Bowl and the valley leading into Mount Baldy Village. Directly to your north is Lookout Mountain, which is dwarfed by Mount Baldy. The Three T's sit to your east, along with Ontario and Sugarloaf Peaks.
Civilization
We followed the firebreak back down to it's intersection with the forest service road. Instead of crawling back down the firebreak, we opted for the much less steep route down the forest road. The forest road is a pleasant and easy hike but definitely does not have the views of the firebreak.
Since Sunset Peak is <6000 feet, it can be climbed year round as it'll stay below the snow line. Note that the route up via the firebreak is completely exposed, so it should be avoided on hot and sunny days. The forest service road does have pleasant and ample shade.